It's time for the Black Friday Sale, and already we have a lot of deals and discounts being announced by many retailers around the United States, United Kingdom, and Canada. And, for this Black Friday Sale 2023, we have many products, from technology products to non-technology products; you can enjoy the best discounts.
However, if you are someone who is having your eyes on getting a new premium TV for this season's sale, then here we have got you covered with the best steal deal on Smart TV where now you can get in hands with a new LG C2 OLED Smart TV for a huge price slash via Walmart.
To give you a glimpse look into the LG C2 OLED Smart TV. The TV was released as the successor model of the C1 series TV, which comes with quite exciting features on the hardware and software side. You get the premium OLED Panel on the front side and an AI processor, offering the best AI-based gaming features.
So, this TV is an excellent choice for both Entertainment and gaming. So, without further ado, let's look at the specifications and the deal price for the LG C2 OLED TV.
Black Friday Deal – LG C2 OLED Smart TV Selling for the Lowest Price Ever
LG C2 OLED Smart TV is among the premium series of Smart TVs with great features; however, there has always been a concern over the premium price, where you must spend around $2099.
However, with the Black Friday Sale going on right now, you can get the same TV for the price slash of $700, which brings down the Price to $1399, thanks to the Walmart Black Friday Sale.
Talking more about this TV, here the TV comes with a great set of features out of the box. Let's now look into this TV's specification and feature side.
Also Read: Argentina's Economic Evolution: Sergio Massa Pitches Blockchain for Transparent State Finance Oversight
LG C2 OLED Smart TV – Specification and Features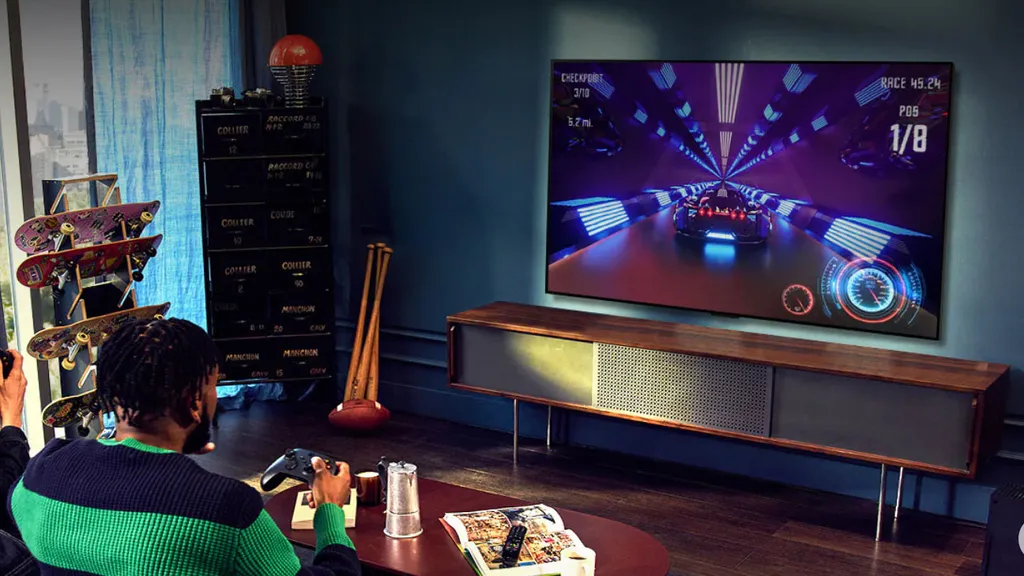 Let's now look into the specification side of this LG C2 OLED Smart TV. On the front side, you will get a bigger 65-inch panel, an OLED panel.
The OLED Evo Panel used in the C series is among the Premium panels where you will be getting the peak resolution of 4K resolution, and also it comes with support for a faster 120Hz refresh rate.
To offer better image quality, the OLED TV's display provides deep blacks and better color reproduction, with the best combination of contrast and brightness. The TV also comes with the support for Dolby Vision IQ Support. The TV panel can get bright up to 820 Nits.
LG C2 OLED Smart TV also comes with a great beefed-up specification under the hood, thanks to the α9 Gen 5 AI processor, which not only offers the best quality video output but is also responsible for the connection, audio output, and many AI-based features you get with the TV.
The TV also offers a significantly slimmer bezel. On the audio sound, the Smart TV comes with audio features where you will get Dolby Atmos over and above, offering better crisp and audio support out of the box.
You also get support for NVIDIA G-Sync, FreeSync, and dedicated VRR support, which offers the best and ultimate gaming support. On the port side, you get 4 HDMI ports to add and use external devices like PlayStations.
LG C2 OLED Smart TV is among the award-winning Smart TV gadgets awarded for its best feature and price.
Also Read: Black Friday Alert – LG UltraFine 27MD5KLB-B Selling for Lowest at B&H
Should  You Buy LG C2 OLED Smart TV?
The LG C2 OLED Smart TV has a great set of onboard features. Be it for using it as an entertainment source or as a source for gaming; this TV is the smart choice for you to go with.
The Smart TV has also been awarded for its best features where it aligns well with the entertainment and Gaming sectors.
In conclusion, the LG C2 OLED Smart TV has great features, and with the Walmart Black Friday Sale going on right now, you can get this TV for a sweet price, which makes this TV a great choice to go with.